The mighty Burj Khalifa is visible from every corner of Dubai ― such is the towering presence of this mighty skyscraper standing 825 meters above sea level. This engineering marvel provides a fascinating view of the entire cityscape. The 31st December fireworks are even more special as the grand fireworks will take you into another world. People from around the globe come over to witness these grand fireworks LIVE through different corners of Dubai.
How To Reach Burj Khalifa from Dubai Airport?
---
Taking the Dubai metro or subway is one of the most inexpensive ways to get from the Dubai Airport to Burj Khalifa. The Dubai Subway has the Red and Green Lines, which are accessible from Terminals 1 and 3 of the airport, and take you to Burj Khalifa/ the Dubai Mall Metro Station.
It is important to note that upon reaching the Dubai Mall Metro Station, you can either walk to the building, or take the Dubai Feeder Bus to the Dubai Mall, which is located a short walking distance away from Burj Khalifa. It will take approximately 25 to 40 minutes to get to Burj Khalifa from the airport via the subway.
Approx Price: AED 5 to AED 7 (approximately INR 100 to INR 142)
To know more about Dubai Metro routes and Detailed station names – Click Here
Taking the bus from the airport is another inexpensive way to get to Burj Khalifa. You can avail the Line 391 or Line 27 bus from Terminal 3 Expo Rider Station of the airport. Operated by Dubai RTA Bus and Dubai RTA Expo Rider, these buses usually take around 40 to 50 minutes to reach Dubai Mall via the Novotel Hotel. From the Dubai Mall, you can take a short walk to get to Burj Khalifa.
Approx Price: AED 4 to AED 7 (approximately INR 82 to INR 142)
One of the best ways to get from the Dubai Airport to Burj Khalifa is by taxi. You can get to choose between Uber and the usual cream-coloured taxis operated by the Dubai Taxi Corporation. You can book a taxi or an Uber from the different terminals at the airport, which will take approximately 12 to 20 minutes to get to Burj Khalifa.
Approx Price: AED 45 to AED 60 per person (approximately INR 900 to INR 1,200)
---
Types of Burj Khalifa Tickets
---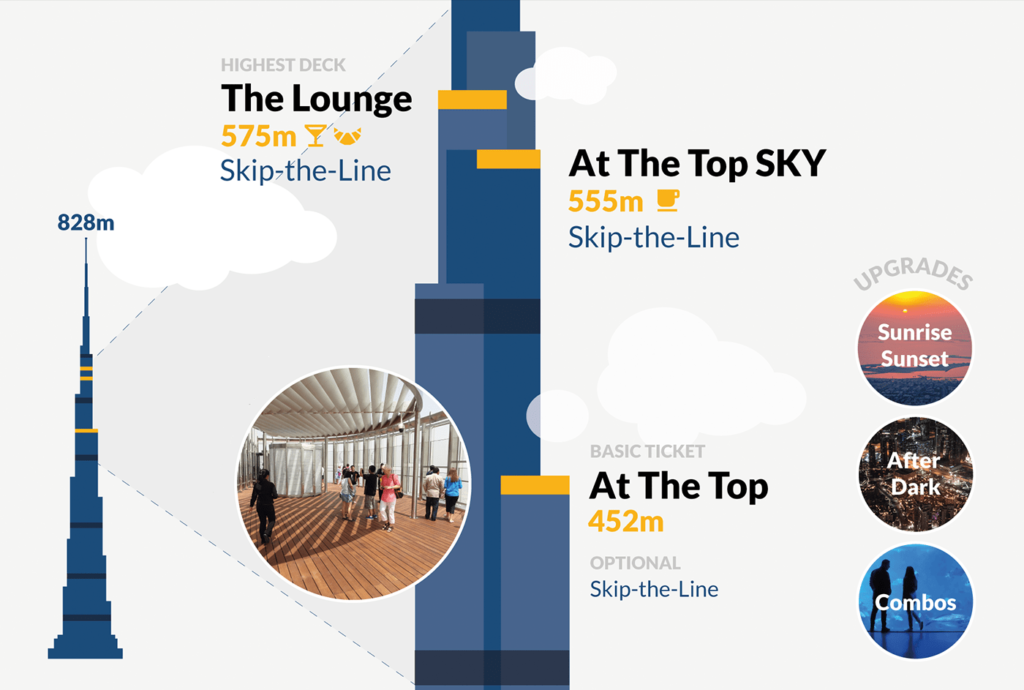 TICKETS BY LEVELS
There are two general types of tickets:
One of them includes a visit to levels 124 and 125
The other one allows you to visit the previous levels plus level 148, which is the highest observation deck!
IMPORTANT: The most popular tickets are the ones that allow you to visit Levels 124 and 125 because they're more affordable (I will explain the prices below), but this also means that these levels are much more crowded and they even tend to run out of tickets for certain times! So please, make sure you buy your tickets ahead of time!
TICKETS BY TIME OF VISIT
The quality of your experience will also depend on the time of your visit. For example, the timing will affect the price of your tickets, how crowded the place will be, and whether or not you'll be able to experience views such as the sunset or sunrise! So the time of your visit is a key factor regarding your Burj Khalifa ticket!
There are two types of tickets based on the time of your visit:
Prime time – Usually the busiest time and also the most expensive one. If you buy tickets for levels 124 and 125, prime time is between 4 and 6pm. If you buy tickets for level 148, prime time is from 9:30 am to 6pm.
Non-Prime time – All other times. Non-prime time tickets have cheaper prices and the visit will not be as crowded as during prime time.
Here you can find a table where I present the standard tickets for general entry. There are more options such as a skip-the-line ticket, but I will tell you everything about those below in the article:
| | | |
| --- | --- | --- |
| | Prime time price | Non-prime time price |
| "At the top" – floors124 and 125 | AED 224 (US $61)(from 4pm to 6:30pm) | AED 149 (US $40.50)(from 8 am to 3:30 pm and 7 pm until closing) |
| "At the top SKY" –floors 124 and 125 +148th floor | AED 533 (US $145)(from 12:00 to 6 pm) | AED 379 (US $103)(from 7 pm until closing) |
Also Read : Best Things to Do in Dubai in December 2022