Go First, the Wadia Group-owned airline, which filed for voluntary insolvency on Tuesday and cancelled all of its flights to 09 May, has now announced that it will cancel all of its flights scheduled through May 12, 2023, for operational reasons.
The sudden announcement has left passengers stranded and disappointed. The airline has apologized for the inconvenience caused by the flight cancellations and has assured customers that a full refund will be issued shortly.
Go First Issues Statement
"We regret to inform that due to operational reasons, Go First flights scheduled till 12th May 2023 have been cancelled. We apologies for the inconvenience caused by the flight cancellations. A full refund will be issued to the original mode of payment shortly. We acknowledge the flight cancellations might have disrupted your travel plans and we are committed to providing all the assistance we can."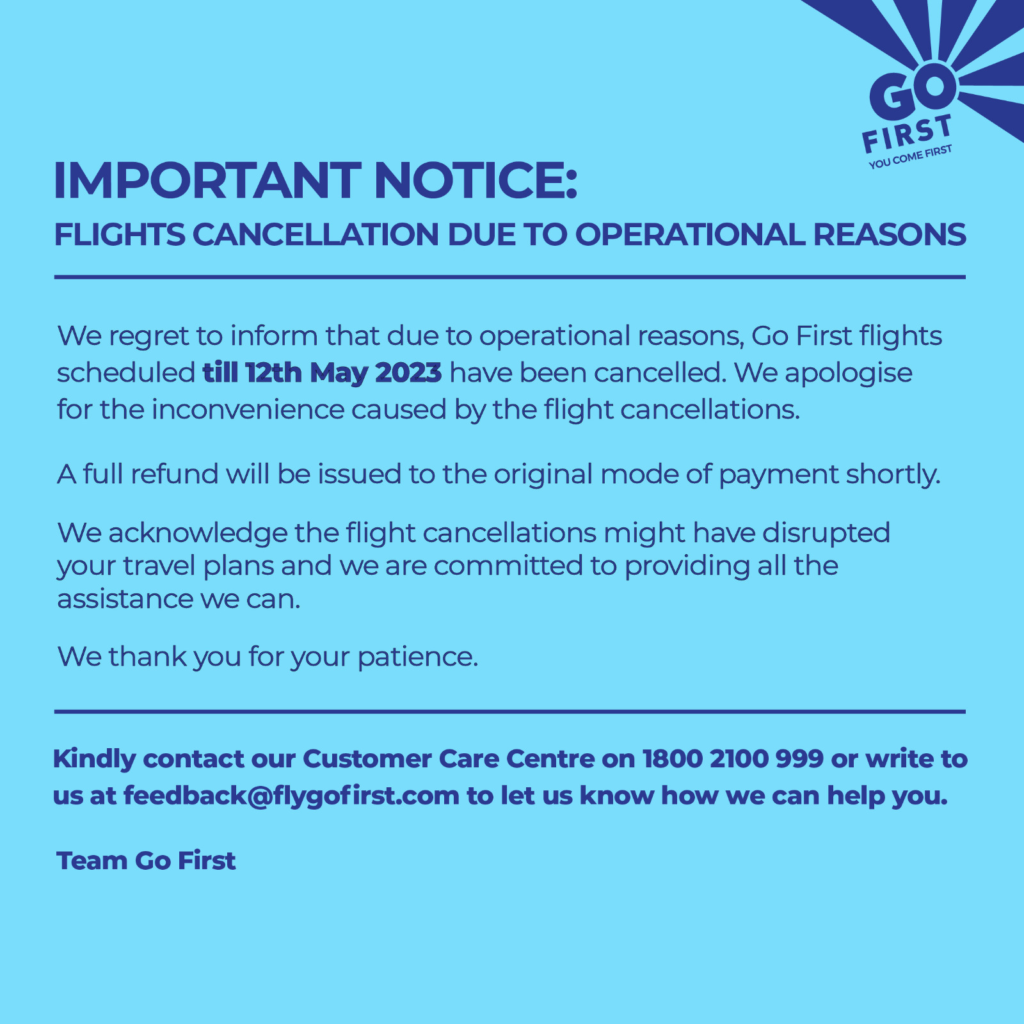 It is worth noting here that, the low-cost airline had already grounded half of its fleet due to a lack of spare parts and engines, which it blames on US engine maker Pratt & Whitney (P&W).
The airline claims that it has been experiencing an increasing number of engine failures, which has resulted in a financial crisis, forcing it to cancel all of its flights.
Update for Full Refund for Passengers
According to the airline's statement, full refunds will be issued to passengers via the original mode of payment in the near future. The airline also acknowledged that the cancellations may have disrupted passengers' plans and pledged to provide all assistance possible.
DGCA Issues Show Cause Notice
The Directorate General of Civil Aviation (DGCA) has issued a notice to the airline over the sudden suspension of flights. The aviation regulator has accused the airline of failing to adhere to the approved schedule and causing passenger inconvenience, leading to non-compliance.
The regulator has also asked the airline to explain why action should not be taken against it for violation.
Meanwhile, Go First has expressed its regret over the inconvenience caused to its passengers and has promised to provide all the assistance it can. The airline has urged affected customers to contact its Customer Care Centre or write to them at feedback@flygofirst.com for any assistance.
This marks the first major collapse of an airline in India since the failure of Jet Airways in 2019, which left thousands of employees in a lurch. The situation is a stark reminder of the precarious financial situation that airlines face, and the impact it can have on both employees and passengers.
---
---